So what is going on in the Midwest? Oh you know, the usual. Farmers milkin cows. People getting ready to plant their crops. Good ole boys talkin bout winter storm Velma and wishin for some sun. Rockabilly zombies partying till the wee hours of the morning! Wickiwicki what?!?!? Yep. That's right, Madison Wisconsin is about to be overrun with Zombillies!!!! The Greater Midwest Bodyart Fest!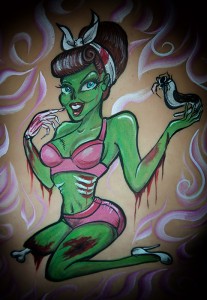 This is going to be a fun one to say the least. If you want to come out and see some crazy good paint, on live models, and learn from the best artists in the industry, this is the place to be. The convention will be loaded with tons of classes. The actual date's of the event are March 19th through the 22nd at the Sheriton hotel.
I will be on hand as the official photographer for the event. And I look forward to seeing what all of the instructors and attendees come up with. I'm hoping to get some time to pull out my paints and join in on the fun. Classes go on through the day and then are followed by jams at night, where all involved are encouraged to pull out their kits and paint till they pass out! Saturday will be the bodypaint competition, followed by the red carpet award ceremony. Yeah no, you read it right, I said the Midwest!!!
For more info on the event go to  http://greatermidwestbodyart.com/
Hope to see you there!